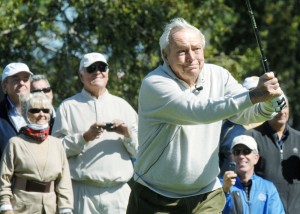 Arnold Palmer stops by Wexford to see finished product
Golf legend's design company has finished course's renovation
If Winnie Palmer had her way, her husband might call Hilton Head Island home.
The late wife of golf legend Arnold Palmer loved this area. And Palmer said Thursday he enjoys it here, too.
He won the inaugural Heritage Classic at Harbour Town Golf Links in 1969, the same year he bought Bay Hill, the Orlando, Fla., complex where he runs his golf empire. Hilton Head might have been that place, Palmer said Thursday, had the timing been right.
"I think this spot is so good," Palmer said.
The King was on the island Thursday to unveil the redesign of Wexford Plantation Club, which the Arnold Palmer Design Company broke ground on in April and finished at the end of August. Palmer toured the course Thursday morning, mingled with members on the driving range and fielded questions ranging from specific holes on the course to the state of golf.
For the most part, the event flowed smoothly.
A homeowner told Palmer he enjoyed an unobstructed view of hole No. 11 before the redesign and was now greeted with something he called "The Great Wall of China." Palmer didn't respond, allowing the crowd to speak for him. Another man told Palmer he lived on the 11th hole and had no problems.
Palmer addressed a number of issues during his session on the range and later during a meeting with media members. Among them:
# Hole No. 13, a tricky par 3: "It is one that will get you talking. And it will keep you talking and if you play it properly, you'll hit it to the right side of the green, and it will come down, and you'll probably make 2. Anything else, forget it and go on to the next hole."
# The bidding process for the 2016 Olympics golf course, which will be built in Rio de Janeiro: "That's going to be a very challenging situation … If you can just imagine traveling from Hilton Head to Rio three or four times a month; It's going to be a tough job. We're going to bid, but I wouldn't be upset if I didn't get the job."
# On modifying the golf ball to reduce speed: "That's very important. We just can't continue to add distance to all the golf courses. And the people who are paying for golf aren't the people who are hitting it so far. They're the people that are enjoying the game."
# The recent trend toward long putters and belly putters: "I don't believe in being able to touch your body and use your body as an aid in making a putt or hitting a shot if you wish. So that will never change, in my mind. I have some friends I play golf with every day that use long putters. That doesn't make me an enemy of them."
The redesign at Wexford included reducing sand traps from about 250,000 square feet to 70,000 square feet, said lead architect Brandon Johnson, who oversaw the project. Trees keeping grass from growing properly were removed, tees were repositioned and greens rebuilt to fit Johnson's inspiration from classic courses.
Johnson said the greens — small and with numerous undulations — were intended to make the golf course more memorable, that members could solve them by carrying a few wedges and a putter around the perimeter and trying different shots.
Palmer shot Johnson sideways glances whenever a controversial issue arose, drawing laughs. Palmer said he requested a minimal number of changes during his tour of the course. But he declared the project a success and promised to use his member status to return and play.
Article by Stephen Fastenau
sfastenau@beaufortgazette.com
Published Friday October 21, 2011
Read more: http://www.islandpacket.com/2011/10/21/1835732/arnold-palmer-stops-by-wexford.html#ixzz1bRZLW5AI
Wexford Plantation Receives Golf Course and Tennis Facility Accolades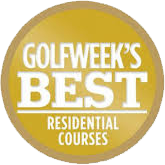 We are proud to announce that Wexford Plantation made aimg huge jump on Golfweek's Residential Top 100 list for 2015, leaping 28 spots (from 2014) to #66 Best Residential Course in America. The announcement will be featured in Golfweek's annual "The Ultimate Guide to Golf Course Living & Great Escapes" this November.
We are also honored and pleased to report that the Wexford Plantation has been selected to receive one of twelve 2014 USTA Outstanding Tennis Facility Awards. The United States Tennis Association's Outstanding Facility Award Program was established to stimulate high standards in tennis facilities and to recognize those facilities whose efforts make such a positive statement about the vitality of the game. Wexford Plantation is active in all USTA events, including Spring USTA Season, Combo Mixed Doubles, Combo Men's and Ladies' Doubles, Junior Team Tennis, Flex Leagues and USTA sanctioned tournaments.