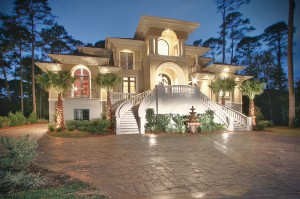 Click Here to See All the Wexford Homes for Sale Today  | Tour Wexford Today! Call 1-800-414-SALE (7253)
Wexford Real Estate offers many options for the private golf community Buyer. Todays market offers the lowest interest rates in decades and prices we have not seen in Wexford in decades. Property values have come down since the peak market in 2005 which makes this a great time to buy. There have been more sales in Wexford over the last 12 months than in many years prior. Deals and interest rates are peaking Buyers interest and property is starting to sell again.
The properties that are available range from waterfront property, harbourfront, golf views to wooded views. Broad Creek borders one side of Wexford and offers gorgeous views of the boats, birds and dolphins from your veranda and living rooms. The unique inland harbor offers the opportunity to park your yacht in your back door. You can fish or boat right from the back yard. The newly redesigned Arnold Palmer Golf Course has spectacular Golf and Golf/Lagoon views to sit and enjoy the golfers go by everyday. Privacy abounds on some of the wooded lots with views of spectacular Live Oaks at your back door. Pick your view and enjoy forever.
Prices range today from $500,000 for the smaller homes in Wexford to almost $4 Million for the spectacular estates on the Harbor in Wexford Plantation. A large variety of styles, prices, floor plans and views await your arrival to view the one of a kind community located on Hilton Head Island, SC. Located on the Island, Wexford Plantation is only minutes to the world famous Beaches of Hilton Head. With over 200 Restaurants, 200 Shops, 30 Golf Courses, 40 Miles of bike paths and over 400 tennis courts, Hilton Head Island offers a resort lifestyle inside and outside of your gated community.
Need a Builder to build your Dream Home in Wexford Plantation, call us today at 1-800-414-SALE (7253). Palatial Homes has built magnificent estate homes on Hilton Head and in Wexford. Many of the homes featured on our photo gallery are Palatial Home Designs. They can design and build the perfect home on your lot. Call us to get more information about Palatial Homes or any builder in the area.
Let us show you today how you can enjoy the new Arnold Palmers Signature Golf Course design, Boating and all the amenities in Wexford. Call 1-800-414-SALE (7253) to get a tour of Wexford Plantation.
Click Here to See All the Wexford Homes for Sale Today | Tour Wexford Today! Call 1-800-414-SALE (7253)